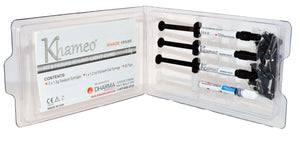 Khameo Opaque Pit & Fissure Sealant Kit
Product Description:
Khameo is a light cured, radiopaque pit & fissure sealant. Available Clear & Opaque. It does not contain Bisphenol A, Bis-GMA and Bos-DMA. It seals against microleakage. No Bonding agents required. Hydrophobicity – low water absorption assures resistance to staining and durability in the oral environment.
Features Include:
3 (1.5 g) Syringes, 1 (1.5 g) Etchant Gel & 2 Pre-Bent (22 ga) Tips4 (1.2 ml) Syringe & 20 (23 g) Applicator Prebent Tips
Opaque Sealant
---
We Also Recommend
---